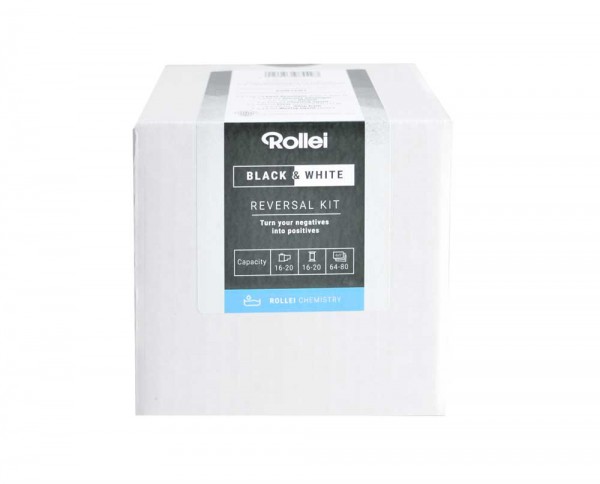 Shipping within the EU only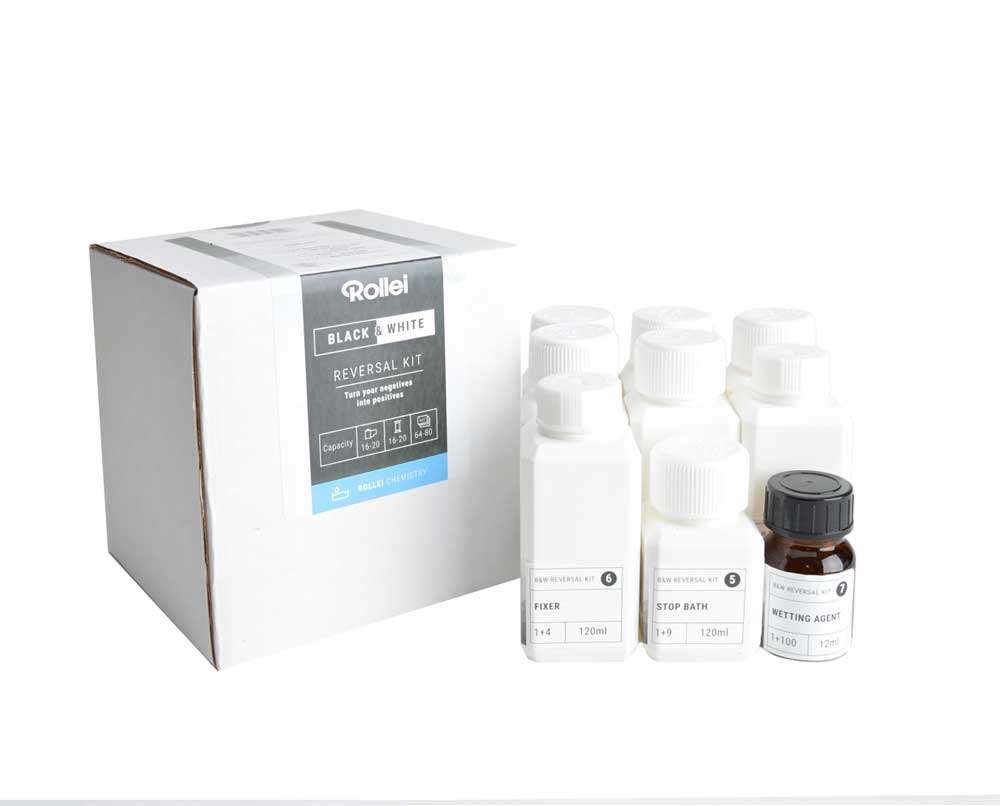 Shipping within the EU only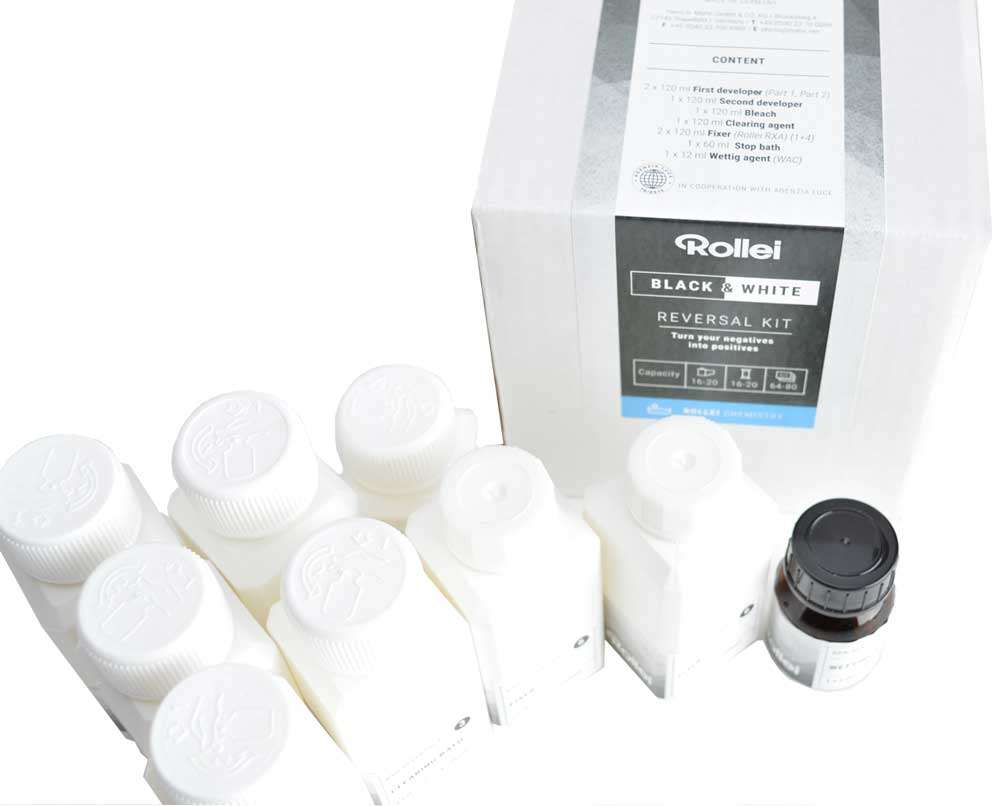 Shipping within the EU only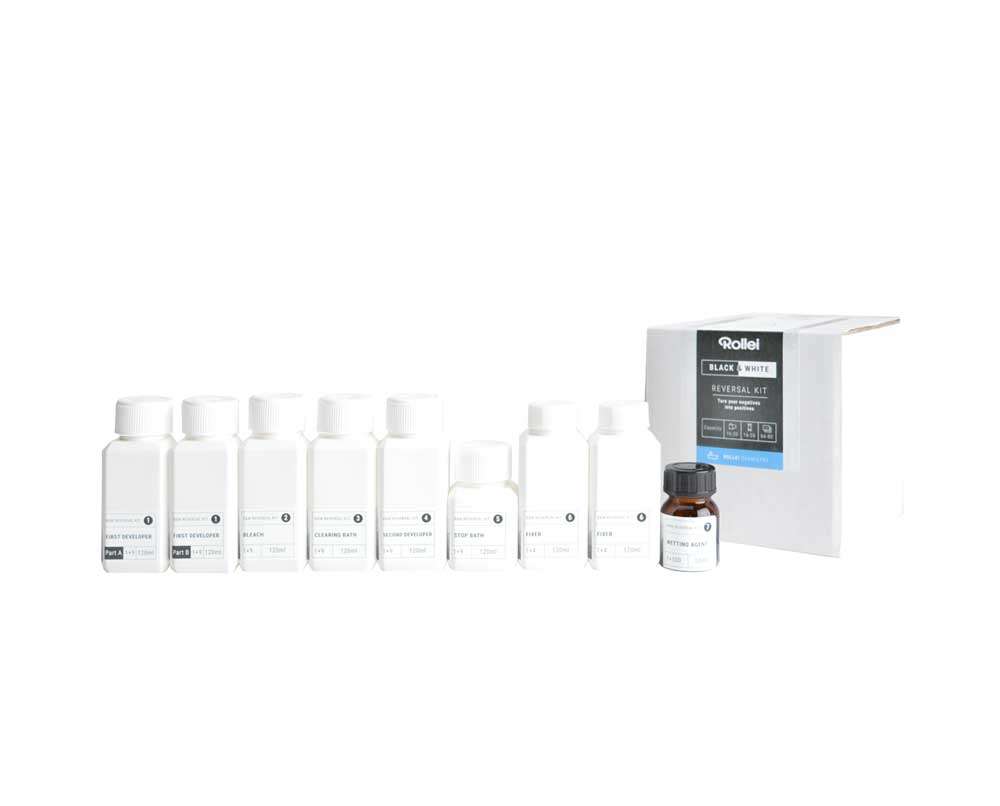 Shipping within the EU only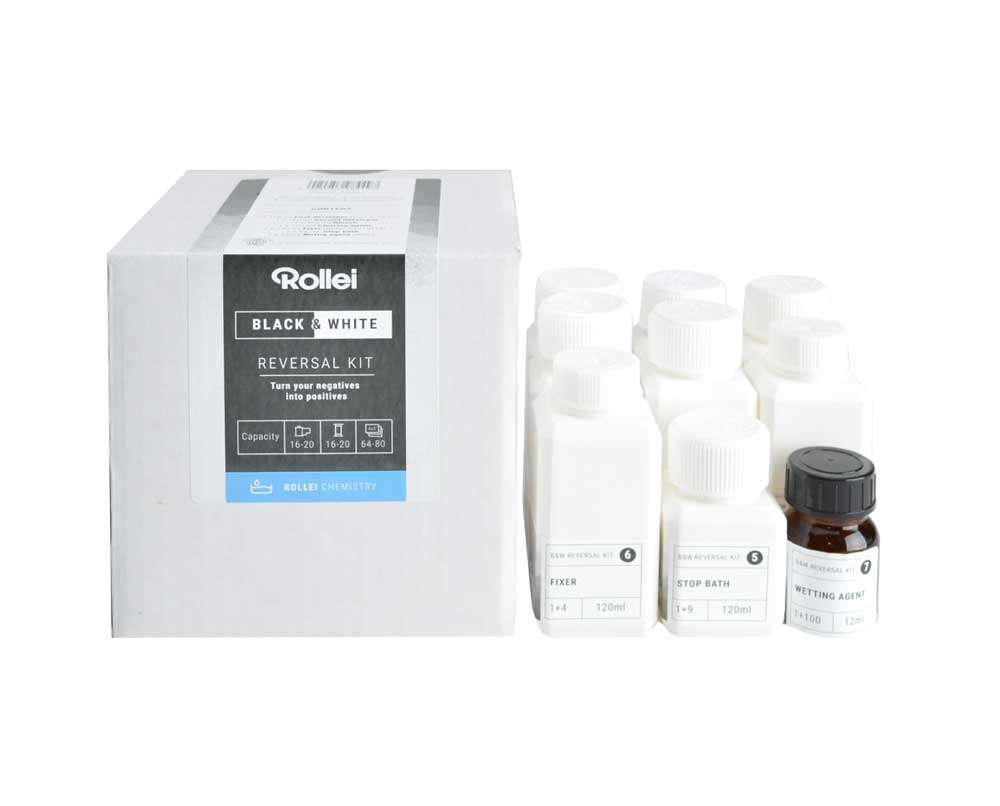 Shipping within the EU only
Rollei Black & White Reversal Kit for 20 films
This product is currently not available.
Please inform me as soon as the product is available again.
Restricted shipping due to dangerous goods! Shipping only within the European Union (except Norway, Malta, Cyprus and some other islands).
Downloads:
Order number:

RALK1

Gewicht (in KG):

1.5
Description
Product information Rollei Black & White Reversal Kit for 20 films
| | |
| --- | --- |
| Product type (b&w/color): | b&w |
| Package: | Kit |
| Type: | Liquid concentrate |
Discover the new Rollei Black & White Reversal Kit and turn your negatives into positives.
In a classic negative the light parts are black and the shadows are white.
Only once it is printed onto paper or fi lm do you receive an accurate image.
The reverse transformation is an elegant way to bypass the negative and
transform the fi lm into a positive or slide.
Let the results speak for themselfes.
Advantages of reversal processing
• High sharpness and maximum blackness (Dmax)
• Large tonal range
• High contrast range and differentiation
• Improved scanning properties
Advantages of Rollei's Black&White Reversal Kit
• Greater processing tolerance
• Shorter development times
• High yield of concentrates
• Improved shelf life
Was passiert bei der Umkehrentwicklung?
Im klassischen Negativ sind die Lichter schwarz und die Schatten weiß. Erst beim Kopieren auf Papier oder Film erhält man ein tonwertrichtiges Bild. Das Umkehrverfahren ist eine elegante Methode, dass Negativ zu umgehen und den Film in ein Positiv bzw. Dia zu verwandeln.
Which films are compatible with reverse development?
The reverse processing places particular demands on the fi lm material. Accordingly, not every fi lm that delivers clear, sharp negatives is suitable for reverse development. Brilliant slides require a low emulsion fog level and high density. Suitable fi lms have a high silver content, which is poured in a thin layer over a transparent substrate.
The Rollei Black & White Reversal Kit has been specially optimized for the following films:
Rollei
Superpan 200* | Retro 80S | Retro 400S | RPX 25 | Ortho 25 | Infrared
other manufacturer
Agfa Copex Rapid | Ilford Delta 100 | Ilford Delta 400 | Kodak Tri-X Pan 400
The B/W fi lm reversal process is based on the process that has been used for over a decade by Agenzia Luce in Trieste, Italy. Compared to standard products this process features greater processing tolerance, higher lifetime and yield of the baths, and a lower impact on the environment and health. The print tone is neutral, the maximum black and tone reproduction is optimized.
User manual | Rollei B&W Reversal Kit
Related links to "Rollei Black & White Reversal Kit for 20 films"
Customer evaluation for "Rollei Black & White Reversal Kit for 20 films"
Write an evaluation
Evaluations will be activated after verification.
When you sign up you can get a coupon for your rating