Products from Kodak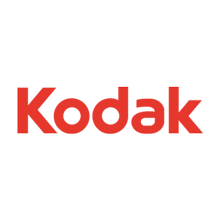 Die ehemals Eastman Kodak Company gilt bis heute weltweit als Institution der Fotografie. Kaum ein anderes Unternehmen hat so viele Innovationen und Patente in diesem Bereich geschaffen. Mit dem Slogan "you press the button, we do the rest" (dt. = "löse aus, wir erledigen den Rest") brachte George Eastman 1888 die erste Massenkamera auf den Weltmarkt. Er machte damit die Fotografie für jeden zugänglich. Danach nahm die Erfolgsgeschichte des "Pioniers" seinen Lauf.
Anfang 2012 meldete der Mutterkonzern mit Sitz in den USA Insolvenz an. In den darauf folgenden 2 Jahren wurde der Vertrieb der analogen Filme, der Fotopapiere und der Fotochemie an Kodak Alaris ausgegliedert. Die Produktion der Fotopapiere liegt heute bei Kodak Alaris, wohingegen die Fotofilme und die Produktion der Fotochemie weiterhin durch den ehemaligen Mutterkonzern Kodak in den USA betreut wird.
Kodak hat nach wie vor ein breites Produktportfolio, das sich sowohl an Hobbyisten als auch an professionelle Anwender richtet.
---
Die Kodak Gold und Kodak Ultramax Filme
Die Filme der Kodak Gold und Kodak Ultramax Serie sind hervorragend für Foto-Einsteiger und Hobbyisten geeignet. Die Colornegativfilme Gold- und ULTRAMAX sind wahre "Allrounder" und sehr flexibel einsetzbar. Sie können drinnen und draußen benutzt werden und sind für Nah- oder Panoramaaufnahmen, sowie für Stehbilder oder Action-Aufnahmen gleichermaßen geeignet. Diese Filme glänzen durch klare Bilder, leuchtende Farben und natürliche Hauttöne.
Kodak Professional Filme
Um den Bedürfnissen ambitionierter und professioneller Fotografen gerecht zu werden hat Kodak die Professional Serie im Portfolio.
Die Colornegativfilme Portra und Ektar sind preisgekrönt und überzeugen durch Ihre qualitativ hochwertigen Bildergebnisse. Um bei Ihren Bildern eine außergewöhnlich glatte und natürliche Hauttonwiedergabe zu erzielen empfehlen wir Ihnen den Kodak Portra 160. Kodak Portra Filme sind berühmt für diese Eigenschaft. Die Portra Filme eignen sich prima für die Porträt-, Mode- und Werbefotografie und sind sowohl für Aufnahmen im Studio als auch "on location" eine hervorragende Wahl. Die Kodak Professional Ektar Serie überzeugt durch extrem lebendige Farben und eine außergewöhnliche Schärfe. 35 mm Negative der Ektar-Serie lassen sich außerordentlich gut vergrößern und eignen sich optimal für die Digitalisierung per Scan.
Alle Schwarzweißfilme der Kodak Professional Serie verfügen über eine überlegene Leistungsfähigkeit. Es gibt nur wenige Filme die ein derartiges Leistungsspektrum haben. Alle T-Max und TRI-X Filme sind extrem scharf und sehr feinkörnig. Die enorme Leistungsfähigkeit der Kodak Professional Schwarzweißfilme lässt Sie alle atemberaubenden Details des Motivs erfassen.