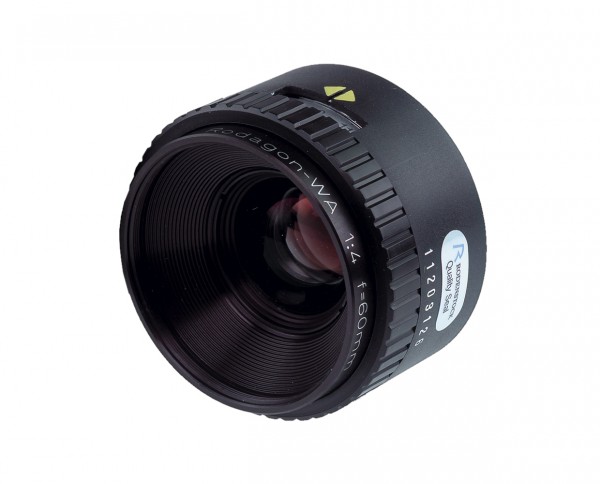 Rodenstock Rodagon 4,0/80mm
Order number:

K4341

Gewicht (in KG):

0.5
Description
Product information Rodenstock Rodagon 4,0/80mm
The lens type Rodagon, with brilliant reproduction over the whole scale range of conventional enlargers, has become the universal workhorse of both demanding amateurs and professionals in practical use. Furthermore, the models with focal lengths up to 135 mm have proven to be excellent macro lenses for SLR cameras and to be high-resolution taking lenses for CCD cameras in combination with the Rodenstock focusing device Modular-Focus.
The 6 elements design guarantees the resolution of the finest details while maintaining a uniformly high contrast from the picture center to the edges. As the lens is nearly independent with regard to magnification scale, top quality is ensured from mini-prints right up to high enlargements. The recommended working aperture is reached by stopping down by only 2 stops from open aperture.
All Rodagon lenses are equipped with an illuminated f-stop display, a practical pre-set aperture und a click-stop diaphragm which can be switched to stepless control for focal lengths up to 135 mm. The Rodagon 28 mm is also available in a smaller barrel with a 32.5 mm thread mount, without pre-set aperture, without illumination of the f-stop scale and with a clickstop aperture ring that cannot be disabled.
Rodagon 80mm f/4
Recommended scale range: 2× - 10×
Maximum film format: 6x7cm
*Image shows Rodenstock Rodagon WA 4,0/60mm
Related links to "Rodenstock Rodagon 4,0/80mm"
Customer evaluation for "Rodenstock Rodagon 4,0/80mm"
Write an evaluation
Evaluations will be activated after verification.
When you sign up you can get a coupon for your rating