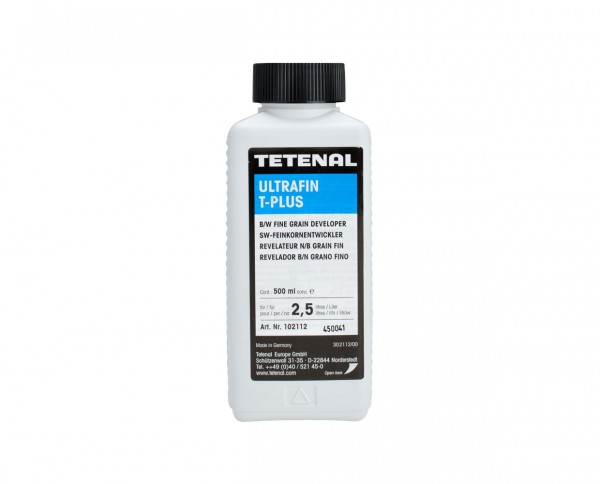 Shipping within the EU only
Tetenal Ultrafin T-Plus 500ml
Content:
0.5 Liter (€39.80 / 1 Liter)
incl. VAT plus shipping costs
Ready to ship today,
Delivery time appr. 1-4 working days
Restricted shipping due to dangerous goods! Shipping only within the European Union (except Norway, Malta, Cyprus and some other islands).
Downloads:
Order number:

TUP05

Gewicht (in KG):

1.25
Description
Product information Tetenal Ultrafin T-Plus 500ml
| | |
| --- | --- |
| Product type (b&w/color): | b&w |
As part of the update of the Classis range, Tetenal replaced the B/W developer Ultrafin Plus with the new developer Ultrafin T-Plus. The Ultrafin Plus formula was improved and the new product is even better coordinated with the modern T-grain films such as Kodak T-Max and Ilford Delta. This can be clearly seen in the additional "T" in the product description. At the same time the Ultrafin T-Plus is also perfect for development of all conventional B/W films, especially those with low and medium sensitivity. Product features and benefits:
• for all B/W films, ideal for T-Grain films
• particularly fine grain
• effective usage of the film speed
• impressive tone value reproduction
• easy to use
• high yield
• excellent storage properties Dilution: 1 + 4 Temperature: 20 °C Capacity: max. 30 films 135-36 Ultrafin T-Plus is particularly fine grain and fully uses the manufacturing sensitivity of the film. A great plus, in the truest sense of the product name, is the pronounced differentiation of the shaded areas, and the impressive associated tonal value reproduction. The instructions, including the development times, can be found in a 3-page peel label on the front of the bottle. The safety instructions can be found on the back of the bottle, also in a 3-page peel label. Development A considerable simplification has been brought about for the development times. Instead of two different agitation rhythms: 3 seconds and 1 minute rhythm, each with 2 different beta values of 0.55 and 0.70 and therefore a total of 4 different time specifications. With the Ultrafin T-Plus a new 30 second agitation rhythm with a beta value of 0.65 is used. This means that the developing tank is constantly agitated for the first 30 seconds, and then turned once every 30 seconds. The liquid concentrate is easy to mix, and partial quantities are not a problem. Ultrafin T-Plus is simple and safe to use. Thanks to the excellent storage properties of up to 2 years for the concentrate and up to 2 months for the working solution, Ultrafin T-Plus is perfect for users with a low throughput.
Related links to "Tetenal Ultrafin T-Plus 500ml"
Customer evaluation for "Tetenal Ultrafin T-Plus 500ml"
Write an evaluation
Evaluations will be activated after verification.
When you sign up you can get a coupon for your rating