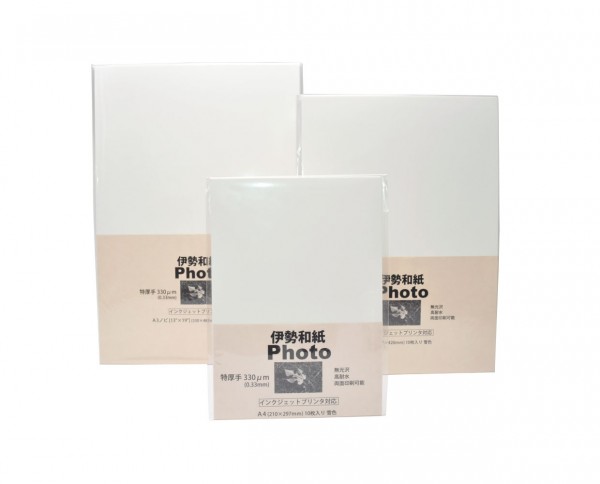 Washi Hiraorime Snow 270g 10 sheets
This product is currently not available.
Content:
10 piece (€0.95 / 1 piece)
incl. VAT plus shipping costs
Sold out | The article is currently not available.
Order number:

W2A4Y

EAN-Code:

4582161837054
Description
Product information Washi Hiraorime Snow 270g 10 sheets
| | |
| --- | --- |
| Product type (b&w/color): | universal |
| No. of sheets: | 10 |
High-quality, handmade japanese paper (washi)!
Washi Inkjet Photo Paper is produced in traditional Japanese craftsmanship. Only natural fibers and raw materials form the recipe of this unique paper. These papers are very special, because it has succeeded to combine old world craftsmanship and modern inkjet printing processes together. Although each leaf is unique, processing in inkjet printers is no problem. Washi paper are dust reduced thanks to their special characteristics and does not affect your printer and print results caused by particulate matter.
All our washi papers are designed for FineArt prints in black and white, in color or for usage of photographic emulsions!
HIRAORIME Snow is a FineArt photo paper with antique white tone. The paper surface is on the one side highly sensitive and smooth on the other side equipped with a diagonal appearing rough structure, which gives a clearly visible vibrancy and structural depth even to images decorated behind glass. The surface is designed . that even the finest lines , structures and image details come into play. In this way, even the paper supports the image effect because the angle of view at different incident angles supports the spatiality.
Was deliberately dispensed with subsequent surface consolidation. This can lead on the rough side to very fine fibrillation, which are not a mistake but a conscious stylistic device for individual sheets. The closed structure will not be affected. Since the paper is printable on both sides, slightly translucent effects can be achieved. In addition, space for additional lettering and painting on both sides provides.
Related links to "Washi Hiraorime Snow 270g 10 sheets"
Customer evaluation for "Washi Hiraorime Snow 270g 10 sheets"
Write an evaluation
Evaluations will be activated after verification.
When you sign up you can get a coupon for your rating